News
#FreewaterFriday is here! Spending over £100,000 on water on a single site? Want to slash your water bills? Well read on.
#FreewaterFriday is here! you could slash your water bills by 50% – 80% – 100% we are not talking about switching water supplier either, oh no far better discounts, we are talking Boreholes!
So what is a Borehole?
The Oxford dictionary definition is – "A hole made by boring a deep vertical hole of small diameter bored into the earth to ascertain the nature of the underlying strata or to obtain water"
A little more about boreholes, moving forward lets call a borehole a private water supply.
Engineers will drill down and tap into porous rocks called aquifers, a pump is lowered into the water held underground and pumped out. Aquifers are constantly being recharged by rainfall and often store vast amounts of water.
The water abstracted may be used for cooling, washing down, drinking, quenching for glass production, swimming pools and more often than not the water quality could well exceed the water supplied by your own water company as you are treating the water at the point of use. It is not having to travel down old iron, lead or plastic pipes picking up iron or lead deposits and of course you will pay substantially less per cubic metre.
Before we move on here is a picture of a private water supply underground.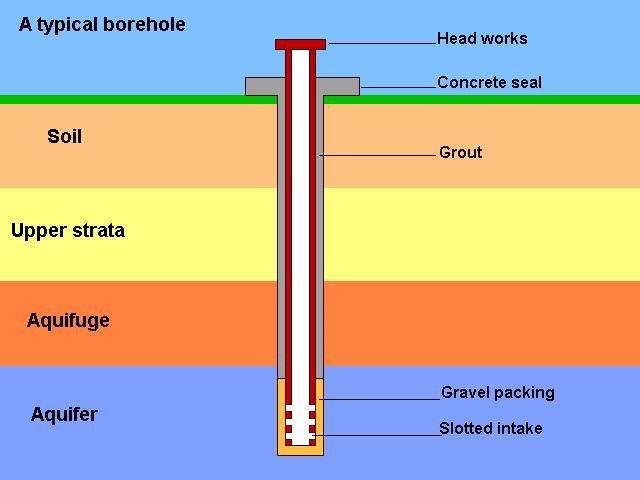 Ok, if you have read this far it is highly likely you are interested ?
Costs? – Lets think about this another way – Payback much depends on the level of engineering work involved but as a rough guide if you work on a 12 month payback as a basic feasibility study you wont go wrong. That's if you are considering funding the whole project from the initial investigation and commissioning which could be challenging.
There is  another way a P.F.I type of deal where a 3rd party designs, funds, constructs and maintains the private water supply and re-sells the water back to you for a fixed rate far below your local water companies rate for a contractual term, with a break out clause and option to purchase.
Its like switching water supplier but making more substantial savings!
There are benefits to both options : –
a) If you fund it in house you will of course retain 100% of the savings minus operating costs and the overall responsibility of delivering the right water quality. Do you really what this potential added cost and responsibility for 100% of the savings?  You decide, for me my water audit expert advice would be no you don't need to.
b) Contract with a company that will fund, design, build, supply water at the agreed quality for a rate substantially lower than your local water company for a fixed term with a break clause which will enable you to buy back the plant and take full ownership or continue with the contract.
You would be supplied water well below any possible retail price and probably less than the wholesale price. There are other potential benefits too for example: –
* There may be other companies near you that you could potentially supply water to via the same private water supply and derive an income from it, thereby increasing your water savings.
So if you fall into the £100,000 per year + single site water bill the answer to slashing your water bills may well be under your feet.