News
Is your business or organisation seeking to appoint a water management company to reduce your water and waste water bills?
If so take a look at us! We are a water management business with 30 years experience of the water and waste water industry.
In that time we have accumulated a vast amount of knowledge and expertise in just about all areas of the industry.
We would describe ourselves as a unique team of experts working within a water and waste water  solutions business .
You have a problem?
We find the solution!
Tell us what you are seeking to achieve and we will aim to deliver beyond your expectations on time, every time. If you have been overcharged by your water company we will ensure they refund the money however long it takes.
When considering appointing a water management consultant to work with you on your water and waste water project please read what our clients have to say about us.
"We contacted the water audit experts H2O Building Services as we knew we had been overcharged on our waste water bills.
Having submitted a claim to the water company ourselves and after some 6 months it was not progressing so we commissioned H2O to act on our behalf and to deal with the claim.
As a result they completed a water bill audit and advised us of the refund and the savings.
The claim was sent to the water company and we received confirmation of the cancelled future charges and a refund.
H2O then completed a further water bill audit as we have been overcharged since 2006 and therefore discovered we were due a further more substantial refund.
A month later we were in receipt of a substantial refund cheque for all overcharges backdated 12 years!
It has been a pleasure to deal with a highly skilled professional team who delivered savings and refunds on our water bills beyond our expectations and we would not hesitate to recommend them"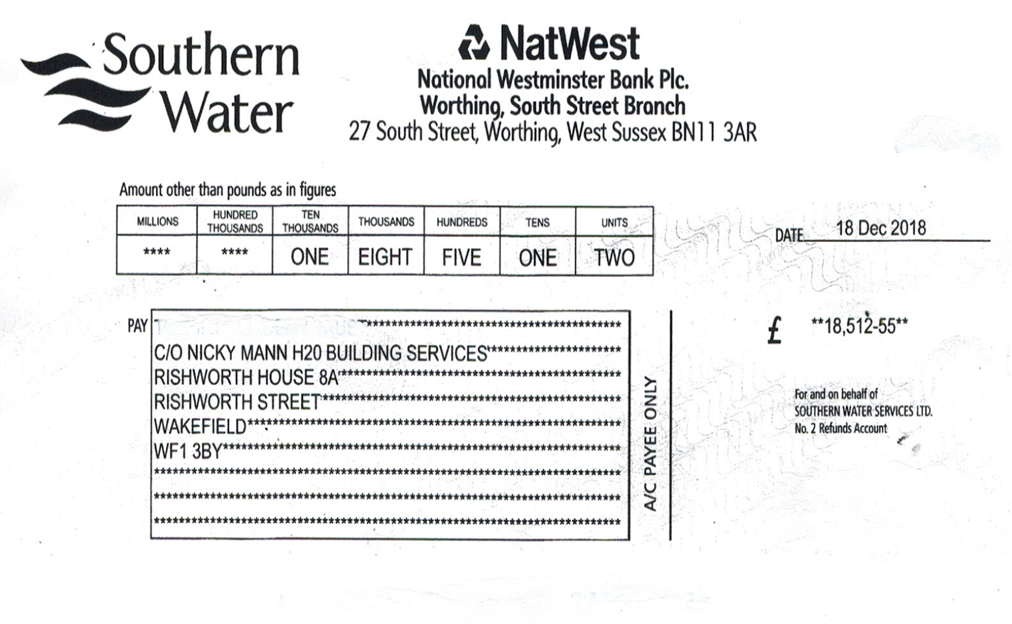 " To whom it may concern – Water Audit Experts H2O Building Services were engaged to help us reduce our water and waste water costs.
Having supplied them with copies of our water and waste water bills they produced a preliminary desktop water audit report giving us an estimate of the potential savings and any refund they could achieve. 
We then commissioned them to carry out their recommendations and on completion return substantial savings and refunds to the business.
This has been achieved with great success and our waste water charges alone have been reduced by 88 percent.
We would not hesitate to recommend them.
Signed Managing Director (Foundries) United Cast Bar Group." 
Water cost reduction – East Staffordshire Borough Council.
East Staffordshire Borough Council uses a considerable amount of water in its main offices, cemeteries and leisure facilities. These supplies are generally metered, however the council is also charged for surface water drainage which is not metered but simply estimated.
Having identified this as an area for potential cost savings the councils programmes and transformation officer Simon Humble employed H2O Building Services to carry out a water audit and review the bills received from from the water and sewerage suppliers over a 12 month period "They didn't find any leaks" says Simon "But they identified that we had been charged some incorrect water supply and sewerage tariffs.
The refunds obtained, some dating back a number of years amounted to over £15,000.
Rolleston Cemetery had been overcharged for surface water drainage charges and H2O Building Services claimed a refund for the previous year of £1,700.
Uttoexter Leisure Centre has also been overcharged for surface water drainage charges. An extensive site survey and discussions with the buildings architects and with the sewerage provider resulted in a reduction from a Band 11 down to a Band 8 tariff and a £3,000 refund for the year.
H2O Building Services also found that the council was being billed for water supplies to parts of the town hall that had been sold and a refund of £4,000 was obtained.
Surface run off from a traffic island is collected and used for irrigation but the sewerage provider had been charging for waste water and run off for several years. The provider agreed that the charges should not have been applied and refunded over £4,000.
Simon stated "We found H2O Building Services very easy to work with and there were no hidden costs. We built up a high level of trust and they have been helping us reduce water consumption and validating our bills"
So appoint H2O Building Services as your water management partner and you wont be disappointed! 
 #ValueWaterMore