AMR – Water Flow Data Logging | Call us on: 0845 658 0948
Data Logging and Automatic Meter Reading (AMR) also known as Smart Metering are effective water management tools. Data loggers are deployed to monitor water consumption and provide remote water meter reading at strategic points on site. The information is fed back into our web based reporting service so that leaks & other unusual water consumption can be immediately identified. Installing a data logger is the No 1 most powerful tool to driving down water consumption and water costs. The water flow measurement data that is produced in the hands of an experienced water audit expert is second to none, the costs are usually around £700 installed including the downloading of the flow data to a platform that produces not only water volume flow over time (usually litres per second) but also in numerical format too.The data logger is installed to the main water company revenue meter, the water volume that passes through the water meter is charged by the water company by water in and waste out and at a national average of £3 per cubic metre (m3) its not cheap. Water is quickly becoming a cost hitting the bottom line, but with a water audit expert and logged water flow data this can easily be brought under control.In the example case study below the client having already competed water leak detection and repair in the past we installed a data logger in order to flag up any future water leaks, within a few hours of the burst pipe underground an alert was sent to our water data monitoring system, the water leak was quantified in money terms at £5,000 per day, in this case had the system not been protected via the data logger on this customers water meter reading cycle and billing from the water company (in this case Northumbrian Water ) a bill for £1.350 million would have been sent out, which would have caused a substantial financial problem for the business. The annual data monitoring and report costs are £300  per year which is excellent value for money.
Pre-water leakage and post water leakage.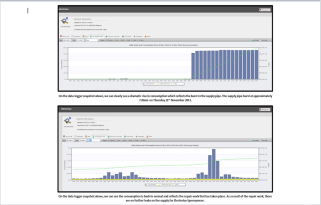 The water leak repair engineers identified the burst water pipe underground, the pipe was severely corroded. The corroded section was cut off and a new piece of pipe was installed.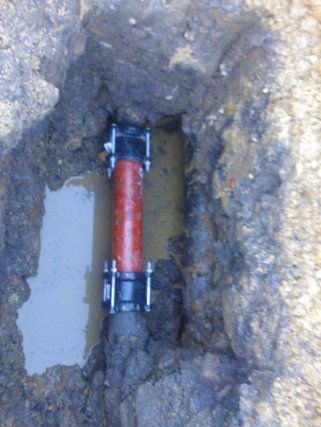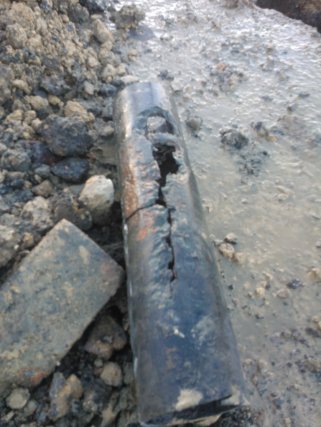 Benefits of our Smart Metering Service are:-
Return On Investment is a matter of a few weeks!.
Billing on actual meter readings – reducing water charges.
Rapid rectification of water leaks.
Successful Monitoring and Targeting Programme reduces water consumption and maintains savings.
Detailed analysis of water usage can be broken down by building, department, tenant, equipment or shift. Automatic Meter Reading determines usage over time, identifies peaks, compare sites and correlates use with the offending equipment or personnel. It provides leak monitoring and helps leak detection and prevention, your insurance against high water bills in the future.
Water Flow Monitoring and Targeting
Information gathered from AMR needs to be used effectively if it is to become a successful component of a comprehensive water monitoring and targeting programme. Our web based reporting system reports:-
Entire property portfolio benchmarked for water consumption.
Web access to water consumption figures.
Flow rate comparisons and analysis.
Immediate SMS and email alerts when consumption exceeds expectation.
Ability to evaluate the effectiveness on environmental projects.
We can dispatch engineers to site in order to identify water losses & carry out remedial action.
Alongside AMR we provide a water bill validation and bureau service – complete with management service nationwide.
AMR water data loggers produce outstanding results
Another fine example where a water meter data logger has contributed to identifying water leaks. The system is programmed to produce a water leak alert when the water flow is recorded as being exceptionally high or indeed water flow is recorded when the site is shut, in these examples water flow was recorded between the hours of 12am and 6am when both sites were closed indicating water leaks to both sites, the true value of this system became apparent literally a few weeks after installation.
Our water audit expert project managers received the water flow data and produced a clear and concise water5 leak alert report for the customer and providing clear and concise  information including a snapshot of the water flow over time and the water consumption and cost of the water leaks. In addition, recommendations were given and if required water leak detection engineers will be dispatched directly to site in order to identify the water leak location and report back with a costed specification for excavation and repair.
It is really vital that the data flow accessed via a web portal is fully monitored and supported by water audit experts and action taken to resolve situations such as water leakage.
Actual case study £32,717 water leak.
Actual case study – £24,703 water leak.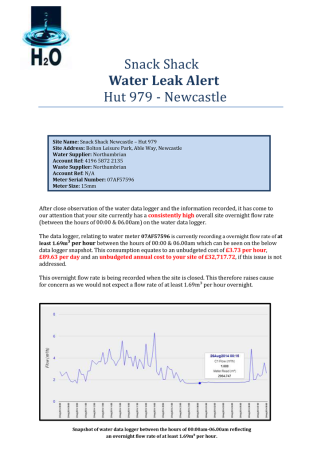 Fully integrated water management is available nationwide
Call a water audit expert now, and start saving 0845 658 0948.