Commercial Rainwater Harvesting | Call us on: 0845 658 0948
Rainwater harvesting is the process of collecting and storing of rainwater that is deposited on your roof area. This water is then filtered and re-utilised in the place of mains water. Typical applications include toilet flushing, vehicle washing, laundry and process water. As there is an increasing demand for water coupled with rising concerns about the environmental and social impact of businesses, commercial entities face a growing need to better utilise their water supply.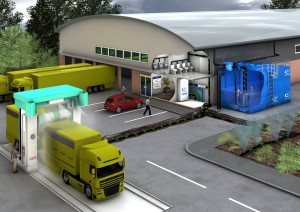 At H2O Building Services, we will install a rainwater system on your premises that will increase your cost efficiency, lower your water bills and reduce your impact on the environment. We have worked with a variety of businesses ranging from offices, leisure centres, hospitals, retail parks and more.
Benefits to your business
There are numerous benefits of implementing a rainwater harvesting system at your premises:
Using mains water is expensive. By choosing a rainwater system with H2O Building Services, you will reduce your water bills by significantly reducing the usage of mains water.
During Summer months, the UK has seen an increase on mains water restrictions and rates of usage. Rainwater Harvesting Systems with H2O reduce your reliance upon mains water by efficiently recycling rain water into a host of applications including landscape watering, WC and urinal usage, laundry, cooling or fire sprinkler systems.
Tailored to your Commercial Requirements
With H2O Building Services we will tailor a rainwater system to the budgetary, size and specification requirements of your business to ensure that your system works efficiently.
Gain BREEAM points towards planning permission
With more businesses aiming to achieve a BREEAM Excellent Rating on their new builds, rainwater harvesting can help you to gain vital points to help you achieve this.
Stormsaver Partnership
In order to provide the highest quality service to our customers, H2O are proud to partner with Stormsaver, the UK market leader in rainwater harvesting systems. Stormsaver develop state-of-the-art rainwater harvesting systems for commercial use.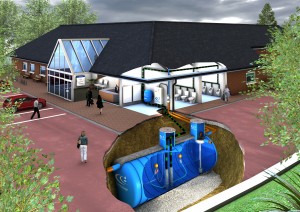 If your business would like to reduce their environmental impact whilst saving money then contact H2O Building Services today and arrange a free consultation.
Call our expert consultancy team today on 0845 658 0948 alternatively, you can email us at info@h2obuildingservices.co.uk