Water Audits | Call us on: 0845 658 0948
What Are Water Audits?
A preliminary water audit is the first step to ascertaining potential water savings and water bill rebates due to historical billing errors.
Many businesses in the UK and Scotland continue to pay their water and waste water bills oblivious to the fact that a 30% reduction in water charges is usually possible, and as an added bonus there is even a chance the business is being overcharged; refunds of between £500 – £ 500,000 are entirely possible.
With these facts in mind is your company prepared to continue paying the water and waste water bills unchallenged?
The answer is, no, of course not. So what next?
Whether you manage a single site or multiple sites, gathering historical water and waste water bills and centralising the process is the first step. For many companies this can be a painful exercise. It will, however, always pay dividends, and allow you to gain visibility of water charges and control of a business overhead. Expanse is good business practise and many businesses tend to be focused on gaining new business and running client projects. As a result, water costs can easily slip through the net and can in fact be a drain on financial resources. Gas and Power will always take precedence over water purely on the basis that in most instances gas and power costs are considerably more than the water and waste water costs.
When all of the water and waste water bills have been gathered it is then advisable to search for a water cost reduction expert, and there is no substitute for experience. Choose a long established firm, check out their online client references and published case studies and also check out the firm's other social media sites such as LinkedIn, Twitter and Facebook. Perhaps engage with them via the social media network and see how they respond.
On fees stay clear of firms that take a % of savings achieved. You may be tempted by the free site surveys in the short term, however medium to long term these will be an issue.
When considering engaging your water audit expert it is worth asking them to produce a no obligation preliminary desktop water audit. Provide the water audit expert with a full postal address list of your sites and at least twelve month's water and waste water bills, with a brief description of what water is used on the sites, for example: –
Retail outlets – Staff levels – public toilets.
New and used car dealerships – Staffs levels – public toilets – car valeting bays.
Pool and leisure clubs – Membership numbers – swimming pool sizes – details of plunge pools – car valeting bays.
Schools and colleges – Number of pupils – staff levels – details of leisure facilities – details of laboratory facilities.
Manufacturing, Production and Process
The information required up front will be more detailed. However, as a general guide provide a description of how water is used in production, including wash down, in-product use and disposal. Also provide copies of trade effluent bills and any effluent flow sampling and monitoring data.
Landlord and 3rd party water charges – These charges are often dismissed, but they are always worth a closer examination and should have the same relevance and importance in any water audit project as after all they are water charges, albeit not levied by a water company.
Preliminary Desktop Water Audit Report
When all of the relevant and key information has been sent to the appointed water audit expert within 7/10 days a preliminary desktop water audit should be produced.
What Is a Preliminary Desktop Water Audit Report?
Below are some examples which cover a few different scenarios as no one business will be the same.
The desktop water audit reports are designed to give you a clearer indication of the potential for savings. An experienced professional water audit expert will always be able to fairly accurately determine if the water billing information and the site operational information is accurate. Once the fee structures are agreed an on-site survey will need to be undertaken to more accurately determine the savings that can be achieved. The report should contain specific areas of savings, action required to achieve those savings, full specification of work including installation and consultancy services, and costs and payback. The average payback would be between 6/12 months; this is excluding any refunds due to water company overcharges.
Preliminary Desktop Water Audit Report – Click an image to enlarge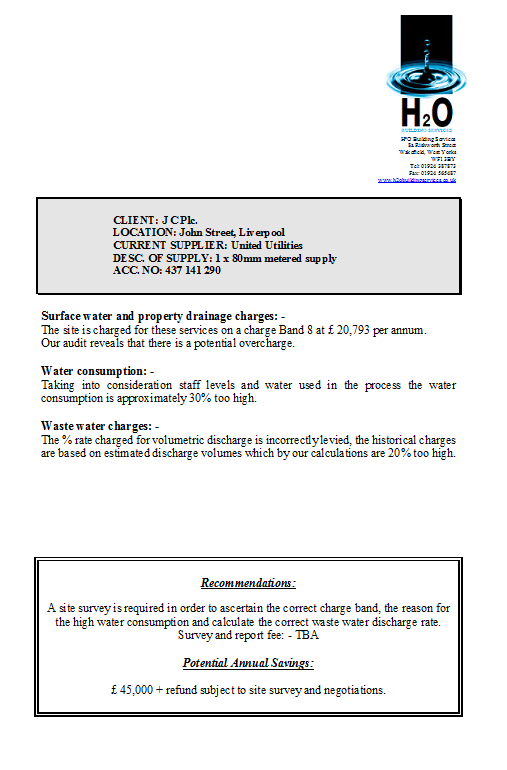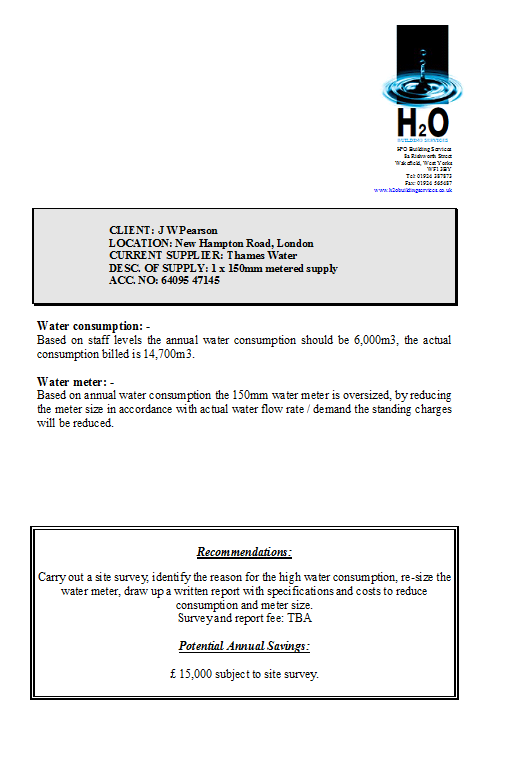 Call 0845 658 0948 and speak to a water audit expert and start saving.