Underground Water leak Detection | Call us on: 0845 658 0948
Stung by an unexpectedly high water bill? Can't see any signs of leaks or system damage in your property?
You could have an underground water leak. Notoriously difficult to detect, underground leaks can go unspotted for weeks, months or even years in some cases. All that time, you are paying for that wasted water being poured out into the subsoil.
Depending on how bad the leak is, they can cause hikes in your water bill of between 30 and 75%.
Given such a severe financial impact, if you spot unexplained increases in your water bill, you are strongly advised to call in professional help.
What causes an underground water leak?
Damage to buried pipes can be caused by a number of things, including:
Old age and corrosion
Ground movement
Low temperatures and frost damage
Accidental damage from excavation.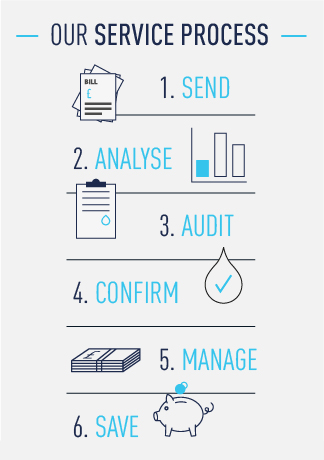 Detecting an underground water leak
The key to stopping an underground water leak costing your business thousands of pounds in excess water bills is early detection. At H2O Building Services, we have devised a tried and tested system to spotting leaks early so we can minimise the impact on the client's finances.
1. Send in your water bills
At the start of all of our water consultancy services, we ask clients to supply us with a complete record of their water bills for a minimum of the past 12 months.
2. Water bill analysis
By analysing past water bills, we can spot any spikes or increases which might indicate a water leak.
3. Water audit
We then carry out a full audit of water use at the property. This allows us to eliminate any other possible causes for an increase in water charges, such as changes in operations resulting in more water being used.
4. Confirm
Once we have set aside other reasons for a rise in water costs, we have firm grounds to believe it could be a water leak. The next step is to confirm this on site by looking for the leak. Underground water leaks are often harder to detect than leaks from pipes inside a property. Our experts use a combination of experience and technology to pinpoint underground leaks in even the most hard to reach places.
5. Manage
Once found, our aim is to repair the leak as quickly as possible. In most cases, we are able to detect an underground leak within half a day. Repairs will very often be completed that same day.
6. Save
The end result of rapid underground leak detection and repair is saving clients money. We have saved clients in excess of £2 million in a single year from our underground leak detection services alone.
Call 0845 658 0948 today to sign up for a water audit and full site survey to identify any underground water leaks on your property.