News
Water Scarcity In Europe: A Growing Concern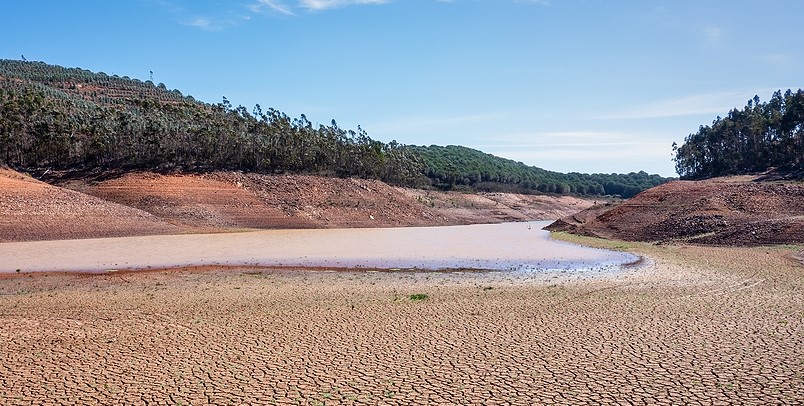 It's relatively easy to fall into the trap of thinking that drought and water stress and scarcity are issues that happen in far flung places of the world, taking places thousands of miles away in only the most arid corners of the globe.
However, this is one pitfall that would perhaps be best avoided, since water stress and scarcity is, indeed, a global issue and something that will affect us all, no matter which continent and which country we call home.
Europe will certainly be no exception in this regard and, in fact, the realities of climate change are already starting to be felt in the form of more frequent and more extreme weather events like longer droughts and more intense heatwaves. This, coupled with over-abstraction, is now starting to put increasing pressure on dwindling water resources.
The extent of the problem has just been revealed in a new study by the German weather service, showing that Europe is now expected to see drier summers and winters more frequently.
This year, for example, March was very dry and only saw a third of the typical volume of rainfall for the month, significantly reducing water levels across the continent, as a result, Deutsche Welle reports.
Furthermore, a rainfall deficit was identified across nearly all 11 European regions included in the study. In Germany, for example, almost every spring since 2009 has been too dry.
And over in Italy, the situation is perhaps even more dire, with the country now facing its most extreme period of drought since the 1950s.
Thus far, over 100 cities in the region have been called on to restrict water consumption as far as is practically possible… and prime minister Mario Draghi has just declared a state of emergency in five areas because of drought conditions being driven by a lack of rainfall and climbing temperatures.
In a statement, it was confirmed that €37.5 million is now being sent in relief funds to Veneto, Piedmont, Lombardy, Friuli Venezia Giulia and Emilia-Romagna to help those regions most affected at the moment.
Mr Draghi noted that the Po basin is now facing its biggest water crisis in the last 70 years, with 17 million people – or a third of Italy's entire population – living there.
The river and its surrounding drainage basins are essential for agriculture and livestock, as well, but the drought has hit Italy's rice crop hard, wiping out 30 per cent of the total harvest, CNBC reports.
Mr Draghi put the current crisis down to three years of warmer temperatures and drought conditions, but also because of infrastructure issues and poor basin and network maintenance.
He was quoted by the news source as saying: "This is why, in Italy, there is an unusually high level of leakage of water being lost. We're talking about 30 per cent or more. To give you an idea, the total in Israel is three per cent and other European countries five, six, eight per cent. An emergency plan is undoubtedly needed to deal with this emergency now."
Measures being implemented around Italy to save water include watering vegetable gardens at night, restrictions on washing cars and patios and on filling swimming pools, as well as watering sports fields. In Pisa, drinking water is now only to be used for personal hygiene and domestic use, while all decorative water fountains in Milan have been switched off.
The story is a similar one over in Portugal. At the start of the year, a rainfall deficit and low water levels in dams saw the government restrict the use of hydroelectric power plants for two hours each week, with the aim being to shore up supplies for the nation's ten million residents for a minimum of two years.
And in southern Portugal, the towns of Lagoa, Silves and Portimao have now launched emergency plans that will see 1,800 farms halve their irrigation of certain crops.
As for Spain, which is the EU's third-biggest supplier of agricultural products, at least 70 per cent of all freshwater resources are used for agriculture… and the people appear to be struggling, as a result.
In Vacarisses, Barcelona, groundwater pipes and wells have run dry, with residents only having running water between 06:00 and 10:00 in the morning and between 20:00 until midnight.
Juan Barea of Greenpeace Spain told Deutsche Welle: "Instead of proposing policies that save water, we are acting as if Spain had as much water as Norway or Finland. In reality, we are more on the level of North Africa."
A risk management approach
A European Environment Agency report from 2021 emphasised the fact that approximately 30 per cent of Europe's population is now affected by water stress during an average year… and this is expected to worsen in line with climate change, which is driving up the frequency, magnitude and impact of droughts.
The trends are particularly concerning for southern and south-western Europe, with river discharge during the summer months potentially falling by up to 40 per cent, if a three degree C rise in temperature scenario is seen.
As such, it is now necessary for Europe to build resilience into its ecosystems and start using resources more efficiently to help minimise the impacts of water stress and scarcity on both people and the natural environment.
The EEA assessment advised that, although policies and regulations do exist at European level to address these issues, improvements must now be made in how they're implemented and how effective they actually are.
Do you want to find out how switching water supplier could help you and your business reduce your water footprint and become more water resilient in the future? Get in touch with H2o Building Services today.