News
A suspected water leak results in a £30,000 water company overcharge.
Author: Graham Mann, Water Audit Expert.
A water leak was suspected as a part of a water invoice validation services provided by "the water audit experts" at H²O Building Services, a water leak alert was issued to the customer detailing the water auditors findings and an action request which was to attend the site in order to ascertain the reason for the high water consumption and high water bill.
For an example of the water leak alert click here ExamplewaterleakBermondsey04PrelimReport
As you can see the water bill received had a value of £22,637 with a water consumption rate of 59 cubic meters per day. A detailed site investigation was completed which indicated that a company adjacent to our customers property was in fact drawing water from our customers water supply meter and not being charged for it. It further transpired that a separate water supply was connected which the other company were paying for, albeit at a much lesser amount.
A claim was submitted to Thames Water for a refund of the overcharges as the water meter that was fitted was incorrectly installed and should never have been charged to our customer. After many months of investigations with Thames Water we eventually (after having to send a formal complaint to the Customer Services Director of Thames Water) received a refund cheque for the water company overcharges for just over £31,000.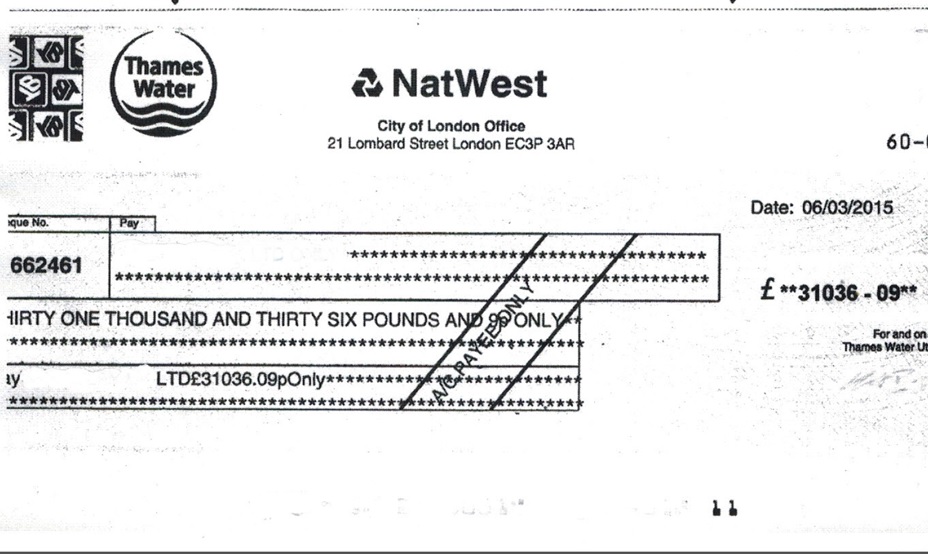 The case has gone on for many months at significant cost to the customer in terms of site investigations and numerous phone calls and emails, Thames Water are as yet refusing to compensate the customer for the costs incurred during this case. It is interesting to note that Thames Water investigated this water supply arrangement in 2012 and stated that our customer was correctly metered.
Thames Water  are seeking to gain customers outside of their area, they state on their website "Switch your water supplier, keep the same water, gain better customer service, make significant cost savings" Well not in this instance, all this customer received was incorrect billing, over 9 months to get the money back and flat refusal to compensate the costs incurred due to the incompetence of the water company. Thames Water have also made it clear "We see no benefit in further correspondence about this".
This customer spends over £1m nationally on water, this is one customer which certainly will not be interested in changing water provider to Thames Water.
TIP: Google search water audit expert – water audit report – water invoice validation service – water leak.